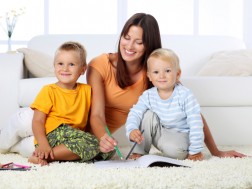 As a general rule, people spend almost 90 percent of their time indoors, so it's important to do everything possible to minimize airborne and solid particle pollutants in our homes and offices. A critical area of focus is our floors and carpets. Shoes track in dirt that contains bacteria, fungus and microscopic bits of asphalt. Chemicals and pollen enter from the atmosphere. Tobacco products, oil from cooking and decayed food may also be present in the home and settle onto the floors, carpet and counters. These substances are not only unhealthy, but over time, they also damage the carpet fibers and cause them to be lackluster.
Carpet cleaning using a truck-mounted hot water-extraction steam cleaning process removes these substances unlike any other method and it can restore the appearance and actually lengthen the life of your carpet.
Of course, the quality of any carpet cleaning project largely depends on the skill of the operator. When you are shopping for a carpet care partner, you will want to look for highly trained technicians who are actively continuing their education. With many ecological and technological advances in motion today, knowing your carpet technician is up to speed with the latest techniques and carpet care technology and eco-friendly advancements, will be a great relief.
At Monarch Cleaning, our leadership and technical employees alike, are highly trained and participate in regular continuing education. We are bonded and insured, and offer prompt, reliable service at competitive rates. References from many loyal and satisfied homeowners and businesses are available.