Carpet Cleaning: Should You DIY Or Hire A Professional?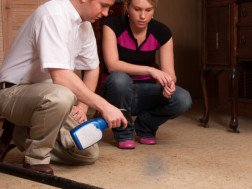 Regular vacuuming is crucial for the life of your carpet.  If your carpet is well maintained it should last for 10 to 15 years.  This means that regular deep cleaning is also necessary.  The question then becomes whether or not you should tackle the project yourself or hire a professional.  We'd never say that you shouldn't consider a DIY fix, however, we can say that hiring a professional is always the safest and fastest way to get the job done.
Some rental machines work okay (yep just okay), and the quality you will get is questionable because their quality varies so much.  This is not good if you are a novice carpet cleaner.  If budget is a concern we suggest looking at the different options, renting a machine, buying a machine, and hiring a professional.  Take into consideration how often you'll need to clean if you do it yourself and the quality you'll likely get.
Carpet manufacturers usually recommend a professional cleaning every 12 to 18 months and more often if you have pets, spill a lot, or tend to track in a lot of mud and dirt.  The thorough job you get from a professional carpet cleaning means that your carpet will look good for a long time.  If you do decide to go the DIY route you may find that the fibers just don't seem clean in which case you'll need to call the pro after all.
Okay, we admit, we're a little biased.  But carpet-cleaning professionals exist because knowing it all and doing the job of a professional just isn't possible, without becoming the professional yourself.
Give us a call or fill out our convenient web form to schedule your next professional cleaning.