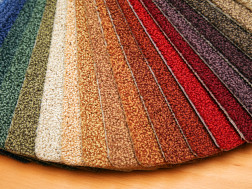 Carpet is a great choice for flooring because it provides comfort, warmth, sound absorption, and it reduces the risk of injury from falls.  But if you're looking into new carpet you know that there are a ton of options available.  Carpet is something you'll have for years so making the right choice is important.
The wear and tear the carpet will have to endure should be one of the first considerations.  There are many different color, design, and material options available.  If the material will require frequent cleaning, then it most likely will not fit into a busy schedule, or a home with children and pets.
Carpet styles include: Saxony, Berber, plush, textured, and frieze.  All of these terms apply to the pile and while they all provide a different look, you'll want to think about how the carpet will work in with your family's lifestyle.  Plush carpet is very thick and soft but it will definitely show marks from the traffic through the rooms.  The other end of the spectrum is Berber, which is flat and dense and very durable – and also not as pretty.  Consider all the options available and get advice from a carpet pro.
Other considerations will be price, stain-resistance, warranties, and maintenance expenses.  The very best carpet will be made from wool but other products such as nylon feel similar to wool but come at a much more reasonable cost.
Take the biggest samples you can get back home with you to see how well you'll like the color/design in your space.  If other areas of your home such as furniture or art serve as focal points you will want to choose a neutral shade.  You'll also want to choose a shade that goes with the mood of your rooms keeping in mind that light colors make a room feel larger whereas darker shades will make your room feel cozier.
Also, you will not want to skimp on the carpet padding.  Padding is the foundation for your carpet and you'll want to consult the manufacturer of your chosen carpet for the best options.  If your home is a high traffic area, you'll most likely be choosing a firm, dense pad.
Do your research when it comes to where you buy the carpet and who installs it.  You'll want to work with a reputable place where you know that you can trust their advice and trust that the installation will be done right.