Extending The Life Of Your Carpet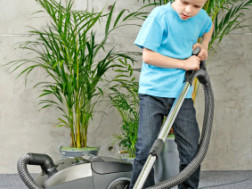 Whether your carpet is new, like new, or old yet you're not quite ready to invest in new carpet, you'll want to consider ways to keep it in good condition for as long as possible.  Carpet can hide a lot of dirt and this is why it's recommended to vacuum on a regular basis.  You may not think you're carpet is dirty, but one square foot can hide up to a pound of dirt—and this dirt is very damaging to the carpet.
Most carpet is made of synthetic fibers such as nylon and polyester which over time a lot of dirt in the carpet will wear it out and even a good cleaning can't get it back to where it once was.
Have you ever visited a house with plastic mats throughout the house?  Well these are great for keeping the dirt out of your carpet.  Unfortunately, like sofas covered in plastic they aren't the most attractive feature for a home.  But at least have a mat for people to wipe their shoes off on before coming in.  Or do as many moms have done and have a no shoes policy.
As we mentioned you'll want to vacuum on a regular basis, which prevents dirt and soil to get embedded in the carpet.  We recommend vacuuming twice a week and more often if there is a lot of traffic through the house.  You may even want to make it a point to quickly vacuum high trafficked areas once a day.
On top of vacuuming on a regular basis, get your carpets professionally cleaned a minimum of once a year and again more often if there is heavy traffic.  A house with kids and pets often translates into needing carpet cleaning every 6 months.
When there is a spill on the carpet, make sure you remove it and thus the stain right away.  Check out our helpful spotting guide for tips on handling the most common stains.
A little change never hurts and with that in mind, rearrange your furniture so that traffic patterns are moved and the same areas of the carpet aren't always getting the brunt of the abuse.
And finally, to prevent fading, make sure that your carpet is not exposed to direct sunlight for long.  This is good advice though maybe not as useful to us in the Seattle area as those living in the south.