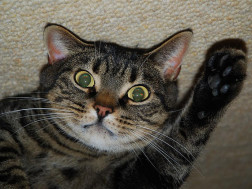 We love our pets, but they make such a mess.  From the furry hair that ends up everywhere no matter how much they are brushed to their dirty paws dragging in everything from the outside world–it becomes obvious who rules our inside world.  And then there are those other surprises to take care of.
By far, one of the most heinous animal crime is when your poodle does a piddle inside.  Urine on the carpet can leave stains that if not immediately tended to are almost impossible to get rid of.  For this boo-boo quickly apply towels or paper towels to absorb the puddle.  Then run the towel under cool water and place it on the area with something heavy on the top; the moisture helps soak up the urine.  Pour small amounts of water on the stain, from the outside to the center.  Spray an enzymatic cleaner that will take care of the smell and the pets desire to utilize the same spot for his/her bathroom.  Apply another dry paper towel with weight and leave overnight.  In the morning the stain and smell should be gone.
If your pet vomits on the carpet simple soap and water can be used for cleanup.  First, carefully pick up the mess with a paper towel, making sure not to push it further into the carpeting.  Then, blot the area with a dry paper towel.  Using a clean sponge and hot soapy water, lightly scrub the affected area.  Rinse the sponge, blot and repeat until all the suds are gone.  Press dry paper towels on the area to absorb the water and let it dry, then vacuum.
Now, about all that hair
When cleaning pet hair from your furniture, put water into the palm of your hand and wipe in a downward motion.  The hair will ball up and stick to your hand instead of sticking to the couch.  When cleaning up hair from your carpet, use a wet kitchen sponge (after vacuuming) and rub it over the carpet, which should cause the hair to ball up.  Now it's much easier to pick up the clumps of hair that just wouldn't budge when vacuuming.  Two other ways: tape and Velcro.
Whenever you have a stain to deal with, make sure you check out our spotting guide for help.  If the DIY tips aren't cutting it, give us a call and we'll schedule an appointment for a professional carpet cleaning.
Source: WikiHow