Protect Your Basement From Flooding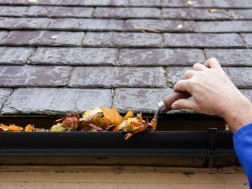 If you have a finished basement, keep in mind that it really isn't finished if you haven't taken the necessary precautions to protect it from flooding! The last thing you want after taking the time and money to convert your basement into a livable space is to have it ruined by flooding. There are some simple yet important steps you can take to prevent this from happening.
Make sure your gutters are clean and that they are extended away from your house. If you don't clean your gutters in the spring and fall then water will dump down directly against your foundation.
During a heavy downpour walk around your house to see if the water puddles next to your home or if it's draining away from the house.  If the water is not being directed away you'll need to regrade your yard.
Install an emergency generator in case you lose power. You don't want to return home from being gone with a flooded basement due to frozen water pipes or a flooded septic tank.
Install an automatic sump pump. The sump pump will keep water from building up in the basement when it rains.  And since sump pumps are mechanical they can fail, a back-up sump pump with a battery operated pump is a good idea.
Have flood insurance.  Your regular homeowner's policy most likely does not cover flooding without this add-on.